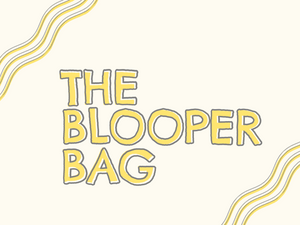 Blooper Bag
Y'all. There are times when we make a small mistake....either we go heavy on the ink, or we don't use enough. Sometimes the ink doesn't cover the tee the way it's supposed to, or maybe we bleached a product TOO much. And then sometimes we print on a product that was sent to us with a small hole and we didn't catch it until it was too late.
These shirts need some love. We don't want them to go to waste. SO! If you're a little bit chill like we are, you'll be pleasantly surprised and super excited about this S T E A L! All items sent will have one of our signature designs on them and it *could* be a tee or it *could* be a sweatshirt.
The product in the blooper bag is non-refundable and non exchangeable. There's no surprise here that you're getting something out of our BLOOPER PILE.
We DO have these in hand at all times, so this will ship out in 1-2 business days.